Boundryless Energy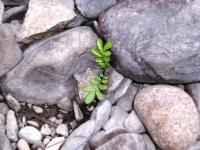 Warren Grossman is an energy healer and author of "To Be Healed by the Earth"
Boundryless Energy
Look at the "white space" surrounding an image.
See background, not picture.
When others have pain or despair,
See beyond symptoms.
See the whole person.
Symptoms exist in a much larger system
of disorganized energy.
Pain is communication about an entire person
A greater context, even yet, exists.
That greater white space is nature.
There is no realistic separation between self,
the earth where one stands,
and the air in one's lungs.

Nature is life.
Expand from attending to symptoms,
to symptoms in the context of a body,
to embodied symptoms,
in its environmental context.
Only background makes sense out of foreground.
Warren Grossman, PhD, is an energy healer. He practiced conventional psychotherapy until 1987, when a trip to Brazil left him desperately ill. His illness did not respond to conventional therapy and he was languishing when he discovered the healing power of nature. He drew upon it to fully recover. Today he teaches others the process he used to access the earth's energy to bring physical, emotional and spiritual well-being. His book, "To Be Healed by the Earth," is a guide to reconnecting with the natural world and opening your heart to love and healing.